Mission Accomplished
Blue Line Graduates
Meet the people we are most proud of: Our Blue Line Graduates. They joined our Blue Line family and learned to fly, worked incredibly hard, and earned their wings faster than anyone else. Learn their stories and follow their progress in the most rewarding and exciting jobs in the world. Welcome to the Blue Line Nation.
90%


Find Employment

After graduation, our Blue Line graduates are in high-demand. In fact, 90% of our graduates find employment within the first 90 days of completing training.
$99,640
Annual Compensation
Flying is a rewarding career, and commercial pilots are paid well.The median salary for commercial pilots is $99,640/year according to the Bureau of Labor Statistics.
6 Months
To Graduate
Our training is designed to achieve professional pilot goals as quickly and efficiently as possible. Average graduates complete the program in 6 months.
Featured Pilot
Joe came to Blue Line as a flight student in June of 2019 after a long career as an EMT. He chose Blue Line because of our team's foundations in U.S. Military and Law Enforcement. Within 5 days of his graduation from our Career Pilot Program he was hired as a ferry pilot by Diamond Aircraft and sent to deliver a plane to a new owner. Shortly after landing, he was shipped international to Bangladesh as a test pilot and factory instructor for the local military. He is currently a First Officer at Air Wisconsin and he never seems to stay in one place for too long!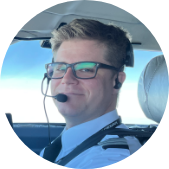 Ryan
First Officer, PSA Airlines
Favorite Flight: Nothing else beats when you're flying on a dreary day and you break out on top of the clouds and the sun is shining.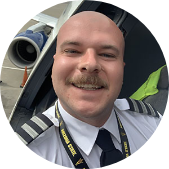 Matt
Captain - Republic Airlines
Favorite Flight: Several instructor-student pairs took an "excursion" from RDU to Ocracoke Island. We walked from the aircraft tie downs straight to the water.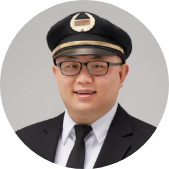 Jin
First Officer, Endeavor Air
Favorite Flight: It was so memorable flying to Ashe County with the beautiful mountains in view! The scenery was breathtaking and I'm so grateful to have experienced it.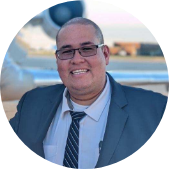 Joe
First Officer - Air Wisconsin
Favorite Flight: The first time I flew a bovine as a passenger was definitely the most memorable experience of flying. It was an amazing feeling.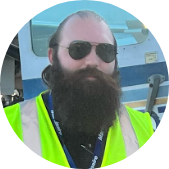 Lake
Captain - Martinaire Cargo
Favorite Flight: The best flights are the ones that are uneventful. When you're up in the air and everything is going smoothly, that's when you really appreciate flying.

So I was a graduate of the Blue Line Career Pilot Program. I finished the program in exactly 5.5 months like they promised. I highly recommend Blue Line Aviation. It's honestly one of the best experiences of my life. I've been looking back and can't help but smile about all the things I went through with my friends, and all the things I've learned and well, I'm a Pilot!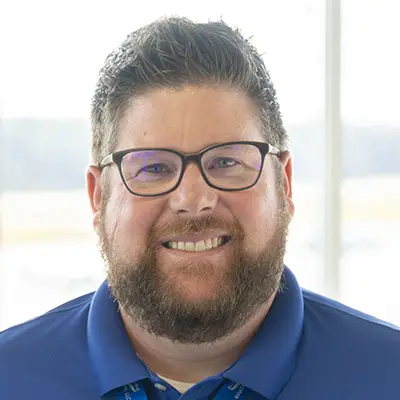 JOSH
As Blue Line's Sales Manager, Josh and his team of student advisors are your guide to beginning your journey into the world of aviation. Regardless of your background, they will assist you in charting a course to achieving your aviation dreams.
Talk to a Training Advisor
Want to explore starting your flight training or career track in aviation? Use the form below and one of our Training Advisors will contact you to answer any of your questions.