Blue Line Graduates
Meet the people we are most proud of: Our Blue Line Graduates. They joined our BL family and learned to fly, worked incredibly hard, and earned their wings faster than anyone else. Learn their stories and follow their progress in the most rewarding and exciting jobs in the world. Welcome to the Blue Line Nation.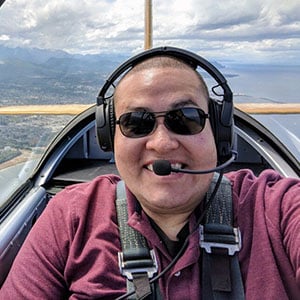 Joe
First Officer - Air Wisconsin
Joe came to Blue Line as a flight student in June of 2019 after a long career as an EMT. He chose Blue Line because of our team's foundations in U.S. Military and Law Enforcement. Within 5 days of his graduation from our Career Pilot Program he was hired as a ferry pilot by Diamond Aircraft and sent to deliver a plane to a new owner. Shortly after landing, he was shipped international to Bangladesh as a test pilot and factory instructor for the local military. He is currently a First Officer at Air Wisconsin and he never seems to stay in one place for too long!
Advice for others interested in flying:
Sometimes it seems impossible to start something new and commit to an accelerated time intensive program in the midst of your life. Just go for it. During my first month of training, my wife called to tell me about a house fire. I took some time off of my training to take care of my family, but came back as dedicated as ever and finished on time. Just one year after starting this pilot adventure, my life is completely different. I get to fly for work, enjoy spontaneous change of scenery, and could not have been happier with my decision to start my career in aviation.
Favorite Flight:
Flying my first bovine passenger was definitely the most memorable. I flew from Kentucky to Georgia in a Beech Baron to pick up a newborn cow who I endearingly referred to as "butterfly."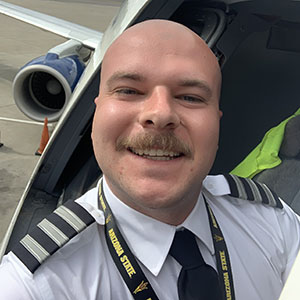 Matt
Captain - Republic Airways
Matt's aviation story began in high school in Lynchburg, VA. Before his first flight lesson he already completed Kings online ground school, and read the Pilot's Handbook of Aeronautical Knowledge. Matt received his Bachelor's degree in Aeronautics at Arizona State University. He came to Blue Line in 2017 to become a flight instructor, so he could start making money doing what he loved. His goal came to fruition 2 weeks later, after finishing his CFI, CFII, MEI and getting hired on to the Blue Line team as an Instructor Pilot. Matt was picked up by the airlines 2 years later and has been flying for Republic Airways in the E170 the past few years. His dream job is to be a Captain at the legacy airlines or cargo operations.
Advice for others interested in flying:
I cannot think of another situation that could have equipped me better than my time at Blue Line. If you are interested at all, just try it! Even if you find out it's not for you, it beats wondering what could have been every time you look up and see an airplane.
Favorite Flight:
My favorite flights were always out to the coast, but this one in particular was really awesome. Several instructor-student pairs at Blue Line took an "excursion" from RDU out to Ocracoke Island, where we walked from the aircraft tie downs straight to the water. We walked from there to get a seafood lunch at Howard's Pub, then flew up the outer banks to First Flight Airport in Kitty Hawk. It was really cool to walk around the Wright Brothers monument there where aviation all started.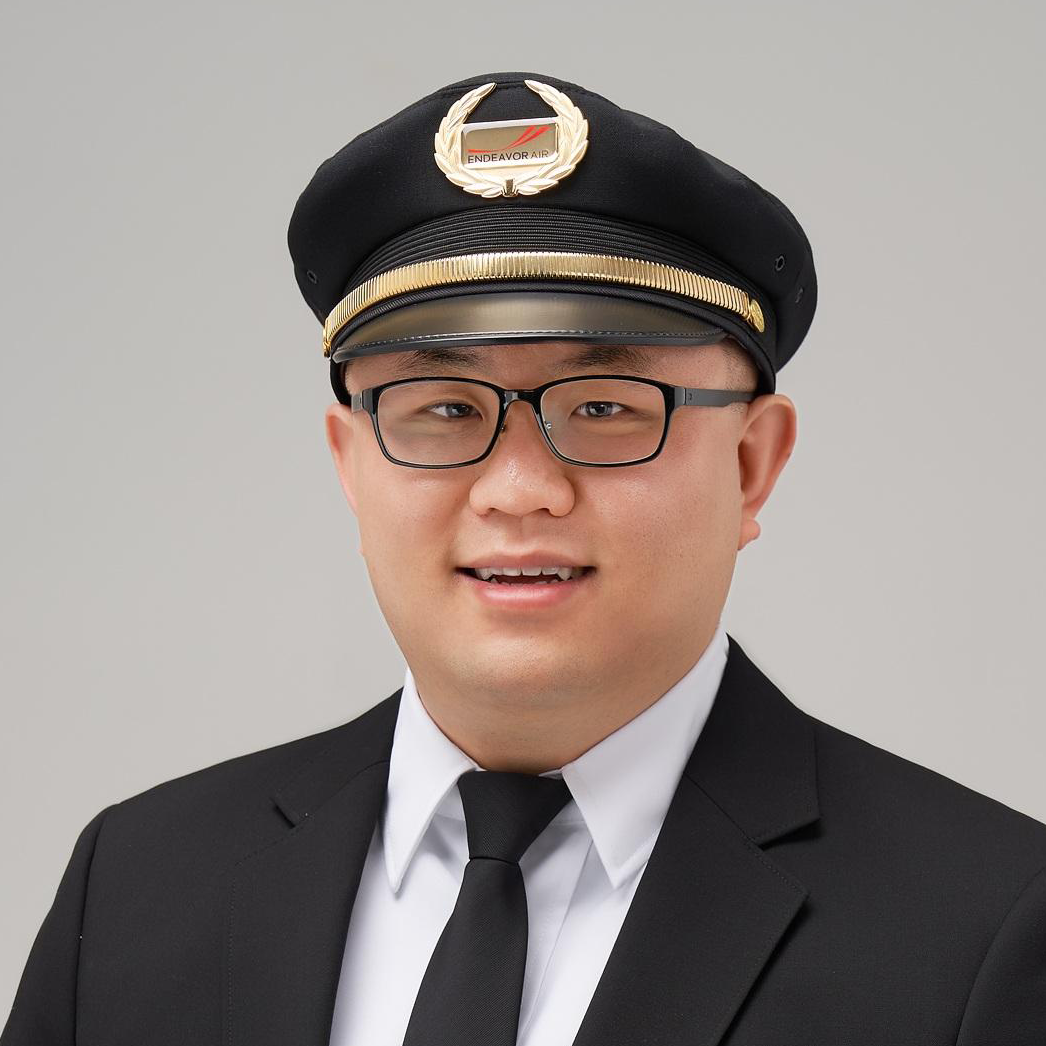 Jin
First Officer - Endeavor Air
Jin was born in South Korea, grew up in Raleigh, worked at the Pentagon after Grad School, but always felt drawn to teaching. After 6 years as a high school teacher, he decided to try something completely new and learn to fly. Jin came to Blue Line at the end of 2019 and was a Certified Flight Instructor 4 months later. He's currently a CFI in Janesville, Wisconsin teaching brand new pilots to fly over the miles of grassy fields and wildlife. Because of his love for the outdoors and teaching, his ultimate goal is to be an Instructor or DPE in the wild backcountry of Alaska.
Advice for others interested in flying:
Don't be afraid to fail or of the unknown. I was airsick on my very first flight and really struggled to prepare for checkrides in the beginning. Just keep trying, don't give up, and never lose hope even if the future seems unpredictable. There will always be a place in the skies for determined pilots. Seriously – If I can do it, anyone else can!!
Favorite Flight:
Flying to Ashe County with the beautiful mountains – so memorable!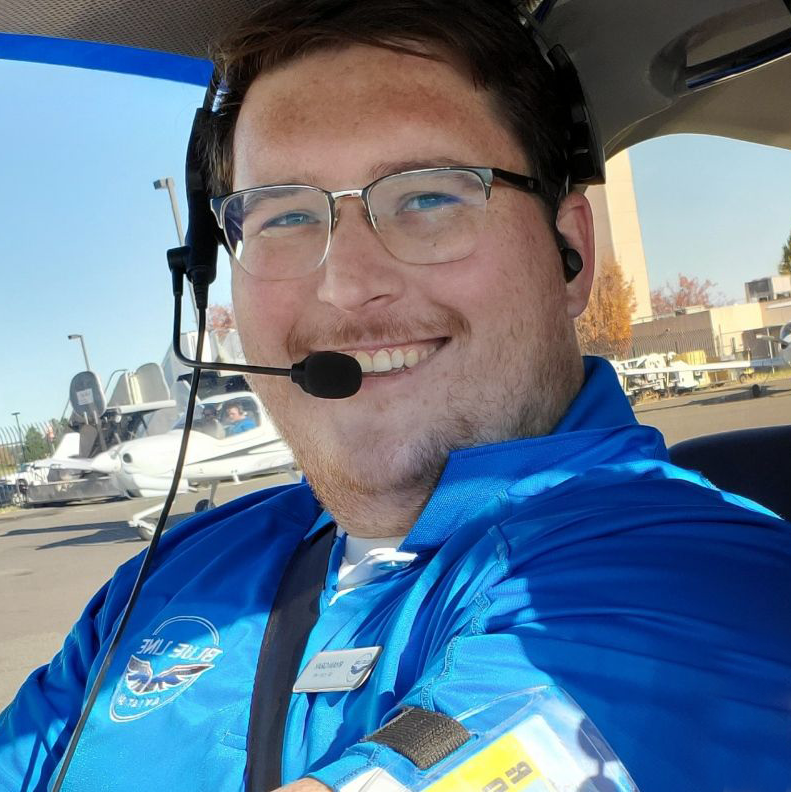 Ryan
Blue Line Flight Instructor - First Officer, PSA Airlines Fall 2022
Ryan came to Blue Line after it took 6 months to get his Private License at another flight school nearby. He was changing careers after working 3 years for KPMG in the banking industry and wanted an accelerated program to jumpstart his new goal to become a professional pilot. He started the program at Blue Line in January of 2020 and 4.5 months later he finished a CFI/CFII/MEI. One week later he started working for us and has been instructing here ever since. He currently teaches multi courses and loves sharing the experience of flying multi-engine aircraft with new students on a weekly basis. He recently interviewed with PSA Airlines while representing Blue Line at Sun n Fun and has a class date with them this fall. We will be sad to see Ryan leave but are excited to see him move on and grow as a pilot.
Advice for student pilots:
Changing Careers or starting your first career can be daunting, especially for those of us that want to be pilots. Looking back, I wish I had made the decision sooner and found Blue Line earlier. I don't regret my decision at all, especially when I get to come into work and fly awesome aircraft everyday. Blue Line provided me exactly what they said they would, a challenging but rewarding program that has set me up for success for the rest of my career. If you're thinking about making a change or getting started, don't wait, start as soon as you can.
Favorite Flight:
I don't have a favorite flight, but I do have a favorite moment. Nothing else beats when on a dreary day, you break out on top of the clouds and the sun is shining. Your problems on the ground don't matter any more. All you can see is blue skies and endless clouds and nothing tops that view.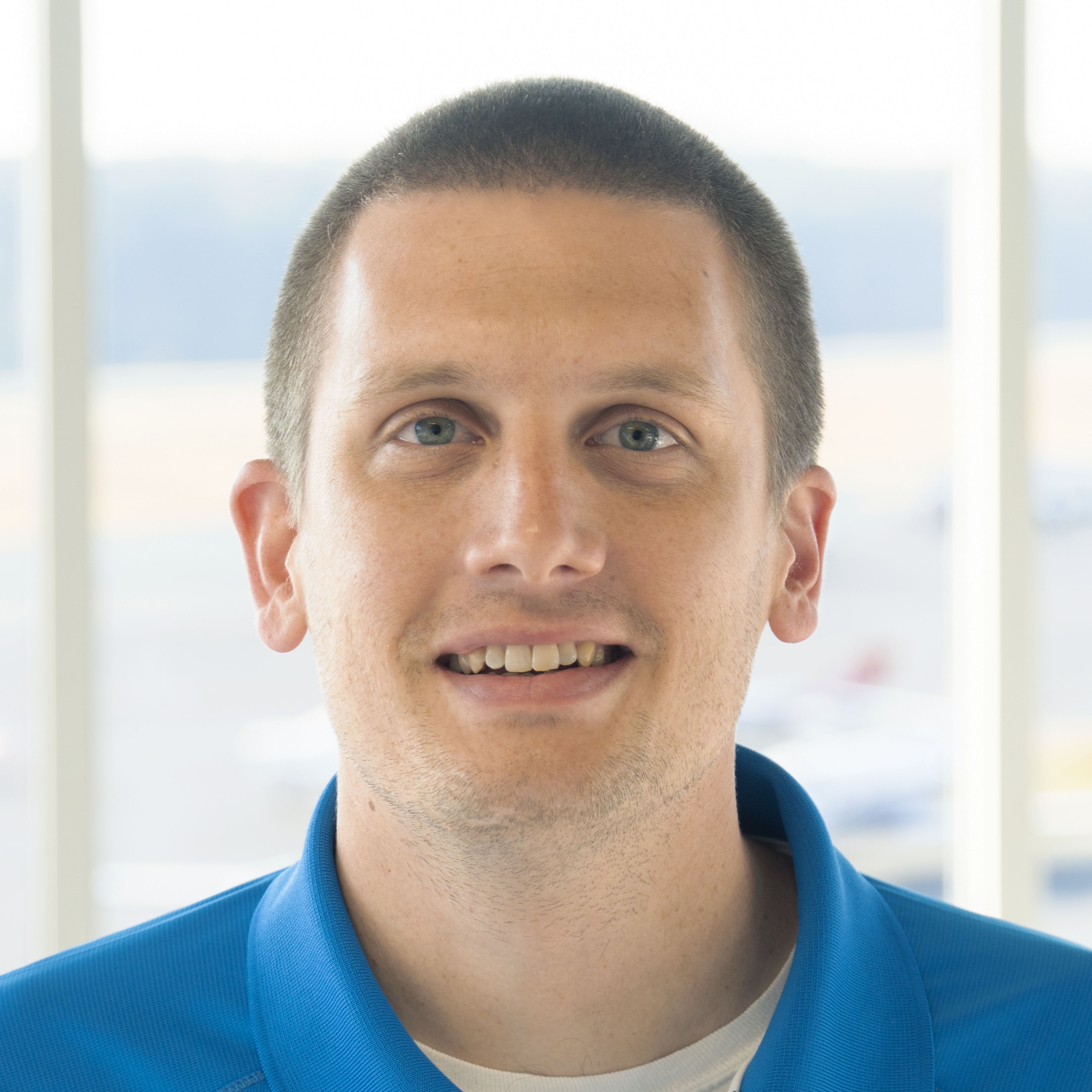 DANIEL
As Blue Line's Sales Manager, Daniel and his team of student advisors are your guide to beginning your journey into the world of aviation. Regardless of your background, they will assist you in charting a course to achieving your aviation dreams.
Get More Information!
Fill out the form to get in touch with a Training Advisor!