Our Fleet is Growing and We're Expanding to Florida

We're Adding 115 New Piper Aircraft To Our Fleet.
We have signed a purchase agreement with Piper Aircraft for 115 new aircraft arriving over the course of 4 years, and have already started to receive our first Archers! This is the largest single order of aircraft we have ever placed and it will add both Archer TXs and Seminoles to our existing fleet of Diamond Aircraft and Cessnas.
"This order signifies our continued investment into providing the very best for our students," said Adam Walters, President of Blue Line Aviation. "Piper is a staple in the flight training industry and brings with them an unparalleled history and commitment to supporting large fleet operators. By having a diverse fleet of modern aircraft we will be better prepared to support our flight operations and ensure that our fleet will remain the gold standard for quality and reliability."
Our 2nd Location Is Now Open In Florida!
As of June 2023, Blue Line Aviation students have the opportunity to train at a new location in Winter Haven, Florida at Winter Haven Regional Airport, in between Orlando and Tampa. A permanent development solution will be explored, but this new location allows Blue Line to grow more rapidly to help meet the unprecedented demand for pilots and help overcome space and operational limitations at our North Carolina location. Further development announcements are expected in the coming months.
"Florida represents an exciting opportunity to partner with a local government, airport, and state who share in our vision of excellence, growth, accountability and love for aviation," says Adam Walters, President of Blue Line Aviation. "We will take the lessons learned from our past 10 years in business and use this to propel us into the future as the continued leader in flight training. "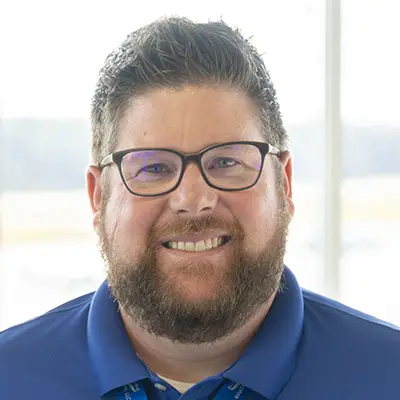 JOSH
As Blue Line's Sales Manager, Josh and his team of student advisors are your guide to beginning your journey into the world of aviation. Regardless of your background, they will assist you in charting a course to achieving your aviation dreams.
Talk to a Training Advisor
Want to explore starting your flight training or career track in aviation? Use the form below and one of our Training Advisors will contact you to answer any of your questions.