Take One Or More FAA Knowledge Tests Before Starting Career Pilot Program
If you want to give yourself a competitive advantage before starting the Airline Career Pilot Program, Blue Line strongly recommends that students finish all their FAA Airman Knowledge Tests prior to program commencement. You can easily do this with prep software specifically designed for these tests. The tests includes multiple-choice questions pulled from an established database. With the right prep software you should be able to get great results before you start one-on-one training sessions with our experienced flight instructors.
Preparing for Knowledge Tests
Students should first complete the required tests before starting at Blue Line, then prepare and practice for airman guided independent study. Completing the online King Courses will give you the endorsements and knowledge to take (and pass) the tests. King Courses guarantees that you will pass.
Endorsements
The Private Pilot, Instrument, and Commercial Pilot each require an endorsement from a certificated flight, knowledge tests, or ground instructor confirming that you are ready to take the test. You will get this endorsement by taking the written King Courses test after you complete the individual course, take the 3 practice tests, and score over a 70%. Blue Line does not recommend taking the test until you are scoring in the 90s and above each time.
Knowledge Tests Requiring an Endorsement
Private Pilot Airplane (PAR) (Required before your start date if you are starting in the private academy)
Instrument Rating Airplane (IRA) (Required before your start date if you are starting in the instrument academy, i.e, already have your Private Certificate)
Commercial Pilot Airplane (CAX)


Knowledge Tests Not Requiring an Endorsement
Fundamentals of Instructing (FOI)
Flight Instructor Airplane (FIA)
Flight Instructor Instrument Airplane (FII)
These will need to be completed before beginning the CFI Academy. The FII question bank is very similar to the instrument test so we recommend students take it the following day even if it will be some time before their CFI training. Similarly, the FIA question bank closely resembles the commercial written.
Optional Knowledge Tests
Ground Instructor (Advanced) (AGI)
Ground Instructor Instrument (IGI)
These tests are not included in the program because they are optional. They are available for those who are interested in becoming a Gold Seal CFI. Students can take both of these written tests for $150 per test.
Register in IACRA Before Scheduling
The first step in completing an FAA knowledge test starts with creating an IACRA account and obtaining an FAA Tracking Number (FTN).
1. Visit iacra.faa.gov and click the 'Register' link in the upper right.
2. Check the 'Applicant' checkbox and agree to the terms of service to continue.
3. Fill in your personal information. If you do not have an airman certificate, leave the 'Airman Certificate Number' and 'Date of Issuance' fields blank.
4. Submit the form by clicking 'Register' at the bottom. The system will generate a FTN number. Save this number and bring it with you when you take your knowledge tests.
Scheduling the Test
FAA knowledge testing centers are located across the country, including at Blue Line Aviation. You can schedule your test by visiting the PSI website. Reminder: test results are valid for twenty-four months, so don't take them too early.
Incentives
Taking the test before your class date removes a possible source of program delays, and allows you to focus on your knowledge tests flight and ground training. As an added incentive, if you complete the Private, Instrument, and Commercial tests prior to your class date, Blue Line will also reimburse you for a 1-year subscription to ForeFlight Basic (required during the program ) — $80 value!
Frequently Asked Questions
How do I schedule a PSI exam?
For most test programs, PSI provides two easy methods to schedule test appointments:
Online at www.psiexams.com
Phone by calling our Candidate Service Center. Please refer you your candidate information Bulletin for the correct phone number for your exam.
What information should I be prepared to provide when I schedule my appointment?
When you schedule your appointment, you should be prepared to provide any of the following information:
The name used to schedule your appointment must exactly match the name shown on your identification. At a minimum, the identification must be a valid, government-issued ID that shows your name in the English alphabet, your signature, your photograph.
Your Social Security, or Licensing Authority/Sponsor issued I.D. Number.
Contact phone numbers - If there is an unexpected event, we will use these numbers to contact you.
Mailing address - Please provide the address to which you would like your score report or other important information mailed.
Exam title.
Eligibility information, if required.
E-mail address - Once again for contact purposes, this is often the fastest and most effective means of communication. Many licensing authorities or sponsors require e-mail contact information for registration.
Method of payment.
How can I find out where a test center is located?
www.psiexams.com has a list of testing centers where you may take your exam. Be sure to choose your Licensing Authority/Sponsor name from the drop down menu for an accurate list. Your exam's Candidate Information Bulletin will also have a list of locations where your exam is administered.
Can I schedule/cancel and/or reschedule my test appointment via the PSI Web site?
Many test appointments can be cancelled and/or rescheduled through the PSI Web site. We require 2 business days to schedule/reschedule (without penalty) your exam. Check your Candidate Information Bulletin for your program's particular rescheduling rules.
Can I schedule my test appointment via the PSI Web site "Same Day"?
Test schedule on the same day is an exception. This is due to a manual process by the proctor and a timing schedule on the proctor, an emergency reason must be provided in order to schedule. Overall scheduling same day means= proctor will turn on scheduling availability on the actual day of the test. The tester will need to wait 2 hours and 30 mins after the same day is turned on. For example, if the same day schedule is turned on at 7:30am the tester will need to wait until 10:00am to schedule the test. Disclosure: tester can only schedule if the time allotment is available ( for your test time and/or placement slots).
How long will it take for my eligibility or authorization to test to be downloaded into the system so that I can schedule an appointment to test?
Please note that not all Licensing Authorities/Sponsors require eligibility to take their exam, therefore, you may be able to test immediately. For those programs requiring eligibility, the files are downloaded and test appointment scheduling is available within 24-48 hours of receiving authorization from the licensing authority.
Why would my local test center tell me that they don't schedule appointments?
The testing centers' primary purpose is to proctor exams. Candidates should visit our website or contact our Candidate Service Center to schedule an exam appointment. Test center staff are not able to schedule appointments for their test center under any circumstances.
How do I obtain the appointment date and time I want to take my exam?
When you go to our website or speak to a representative from our Candidate Service Center you will be asked to provide your preferred test date. The first available time slot on that date will be offered to you. If your preferred appointment date is not available, a Candidate Service Center representative will work with you to identify a convenient appointment date.
My appointment is scheduled for today, however the testing center is closed. What should I do?
In rare cases weather or an emergency forces a test center closure. If this happens you will be contacted by the PSI rescheduling department within 24-48 hours to reschedule your appointment. We apologize for any inconvenience. Real time site information is posted at psiexams.com
How far in advance must you schedule an exam?
Exam sessions are can be available at least 6 weeks in advance. You will have the best opportunity to schedule your preferred date if you schedule 2-6 weeks prior to your preferred date.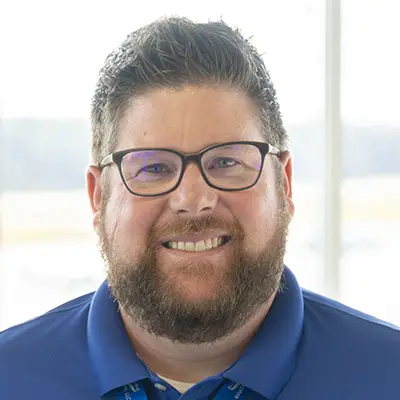 JOSH
As Blue Line's Sales Manager, Josh and his team of student advisors are your guide to beginning your journey into the world of aviation. Regardless of your background, they will assist you in charting a course to achieving your aviation dreams.
Talk to a Training Advisor
Want to explore starting your flight training or career track in aviation? Use the form below and one of our Training Advisors will contact you to answer any of your questions.